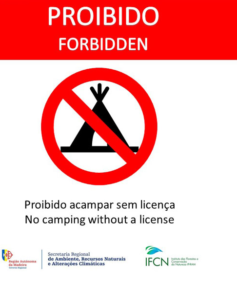 Wild camping in Madeira
If you plan to go wild camping in the mountains of Madeira, you will need to apply for permission from the Regional Forest Directorate beforehand. Once you have received the permission document, you must keep it with you at all times during your camping trip and present it to Forest Guards upon request.
Permission request
To apply for permission, you must create an account at Simplifica website here. Once you're logged in search for "Camping licence"  or go directly https://simplifica.madeira.gov.pt/services/7-22-101. The form will require you to provide some personal details, such as your name and contact information, as well as information about your planned camping trip, such as the dates and location of your stay. You will also need to provide some information about your camping tent and the number of people.
(1) – This is the maximum allowed number of tents for all available permissions. Permissions can get up to 10 tents each, depending on the campsite. 
(2) – This is the maximum number of permissions that will be issued for a specific campsite at the same period (day) .