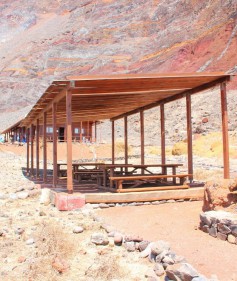 Reserva Natural das Ilhas Desertas
The camping area of the Natural Desert Islands as expected, it's located in Desert Islands about 35 km from Funchal, southeast of Madeira island. The camping area is located next to the guards house in Deserta Grande, just a few meters from the sea. The Natural Reserve of the Desert Islands has a total area of 12586 hectares, bounded by the bathymetric of 100 meters and includes all islands and islets. In March 2014 it received the European Diploma of the Council of Europe for the protected areas.







Desert Islands are also home to the known Mediterranean monk seal, Monachus monachus. This specie is one of the world's most threatened specie with extinction, with a world population of less than 500 elements. As a way to combat the disappearance of the species in 1988, Madeira Natural Park Service (SPNM) started a program for the Conservation of mediterranean monk seal, which led to the creation of the Special Protection Area of Desert Islands in 1990.
The camping area does not have support facilities dedicated to campers. There is no drinking water on the island, so it's up to you to carry the water needed for consumption. In order to use the outside fireplace you will have to apply for permission to the guards, so it might be better for you to take your gas oven.
Access to the Nature Reserve of the Desert Islands is carried only by the sea, and ir requires an authorization from Madeira Naturar Park serice. If you would like to visit this unique Islands you can contact some Turistic shops for a ticket in one of the boats that have weekly trips to Desertas Islands.
Authorized activities
Access of people to the land area, and visit the interpretive area;
Watching and listening to birds and overnight staying in the context of awareness and educational activities
Nautical activities not motorized, with the permission of the Madeira Natural Park;
Access to people and boats, for diving or fishing activities only in the protected area Partial Type I;
Prohibited activities
Harvest, cut, arrest or detention of any living beings and the destruction of their natural habitats;
The entry of any pets;
Abandonment of debris or trash;
Release of water from vessels washes;
Practice of noisy activities;
Spear-fishing;
Request licence
Parque Natural da Madeira
Quinta do Bom Sucesso Caminho do Meio
9064-512 Funchal
Coordenação da Reserva Natural das Ilhas Desertas
E-mail: cispnm.sra@gov-madeira.pt
Telefone: 291 795 155
Pontos de Interesse
Loading map...

Gallery