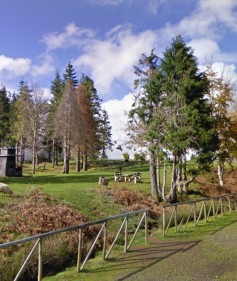 Chão das Feiteiras
"Chão das Feiteiras" is the only plateau in Machico. It's a very green area surrounded by cedars that offer cool shade in summer. Situated just North of Poiso to about 1200m altitude, the nights are often cold, even in summer. The area is close to sheep pastures, so you might be surprised by one of them. The area has fireplaces, picnic tables and drinking water.
One of the particularities of this camping area is the existence of a fire Park, a small area with 4m2 where you can join friends around the fire, share some marshmallows and laughs.
Nearby you can visit "Ribeira do Poço do Bezerro" and fish for trout. Fishing in water streams including trouts, requires the authorization of the Regional Forest Department.
Points of interest
Loading map...

Gallery