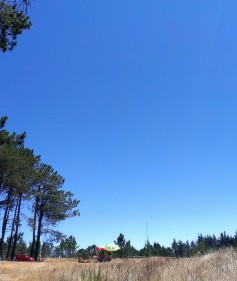 Chão da Lagoa
Chão da Lagoa is one of the most frequented areas for campers in Madeira. The beauty and tranquility of the place, with the existence of great conditions for having picnics and good road accessibility make this a much sought destination for outdoor activities.
Chão da Lagoa is part of "Parque Ecológico do Funchal" that was established in 1994, with the aim of promoting the conservation of nature and the promotion of environmental education and infrastructure as well as providing a place for recreation and leisure visitors.
Currently it's area is approximately 10km2 in mountainous terrain north of the city of Funchal, among the 470 meters altitude in the river Santa Luzia and 1818 meters above sea level at the peak of Areeiro.
Camping Activities in Chão da Lagoa are subject to the following:
Camping is only allowed in areas marked for this purpose.
Motorized vehicles are allowed only on paved roads and parking areas.
Driving of motor vehicles at night is not allowed.
Any type of street vending is not allowed.
You may not stay overnight in fireplaces, which are for public use.
It is expressly forbidden to make fire out of existing fireplaces.
Request permit
Online form : here
Centro de Recepção Parque Ecológico do Funchal
Estrada Regional 103, n.º 254 – Monte – Ribeira da Cales
Telefone: 291784700
Points of Interest
Loading map...

Gallery