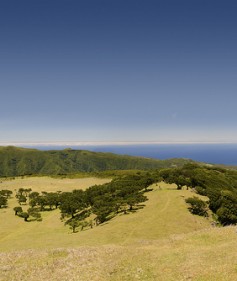 Fanal
Fanal camping area is located in a area covered by the original forest of Madeira in lush condition and development. The Laurissilva forest is classified as World Natural Heritage Site by UNESCO since December 1999 and it's a member of the European Community Importance Network of Sites – Natura 2000 network.








Two beautiful recommended routes begin here: PR 13 – Vereda do Fanal and the PR 14 – Levada dos Cedros. A 20 minute walk will guide to a place known as "Sítio do Fio", from here you can enjoy the ingenious work of laying cables to transport firewood and brushwood gathered in the Fanal area for agriculture activities of the inhabitants of Chão da Ribeira .
Enjoy the magnificent area of Fanal, a small vulcanic caldera, classified as "Reserve Rest and Silence" by the Natural Park of Madeira, to enjoy a moment of pure relaxation. Here, its beauty lies not only in imposing and ancient forests of tis (Ocotea foetens), with some specimens that have resisted since the discovery of the island, as in the spectacular scenery surrounding it.
Attention:
Area with frequent fog in passing and danger of disorientation;
Don't deviate from the path;
Weather can change very quickly, always take warm clothing with you.
Points of interest
Loading map...

Gallery