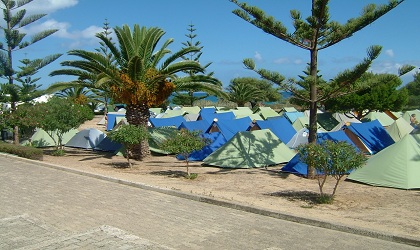 Porto Santo – closed
The island of Porto Santo is a 9km beach of yellow sand, attached to a small island of 42.48 km² in which 5500 people live. The sandy beach is with no doubt the best attraction in the island, but it is misleading to think that the island comes down to the sand and the beach. The northern coast of the island lets you enjoy amazing mountain scenery and cliffs, contrasting with low relief and the south coast beaches.













The campsite Porto Santo is located in the area of Fontinha, 1 minute away from one of the most beautiful sandy beaches in Europe. The campsite has a capacity for 800 people, offering toilets, showers (cold water), TV room, Internet, bar and electricity. Caravans and mobile homes are also welcome. It is also very close to the city center,where you can find supermarkets, restaurants, bars, post-office etc.
Price for person/ day

Children up to 2 years
Free
from 3 to 25 years
1.70 €
€Adults(more than 25 years )
2.80 €

Prices by tent/day

Lower than 4 m2
3,00 €
Bigger than 4 m2
3,60 €
Contacts
Rua Gularte Medeiros
9400 Porto Santo
Telefone: +351 291 982 160 E-mail: info@cm-portosanto.pt
Points of Interest
Loading map...

Galery